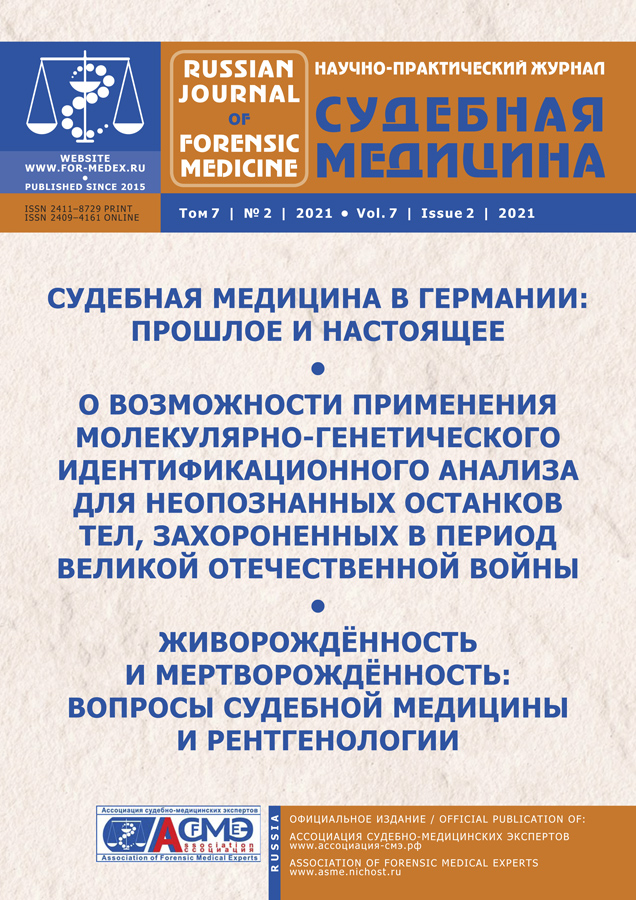 Russian Journal of Forensic Medicine
Peer-review medical journal
Editor-in-chief
Journal founder
Russian Association of Forensic Medical Experts (link) .
About
The peer-review medical journal "Russian Journal of Forensic Science" aimed to provide the very latest information both in research, practical and educational areas related to a wide range of fields across the forensic sciences.
Fields include: forensic pathology and histochemistry, chemistry, biochemistry and toxicology, biology, serology, odontology, psychiatry, anthropology, digital forensics, the physical sciences, firearms, and document examination, as well as investigations of value to public health in its broadest sense, and the important marginal area where science and medicine interact with the law.
The journal publishers original research, reviews, case reports, commentaries, letters to the editor, clinical and laboratory observations by Russian and international authors, pertinent to readers in CIS countries and around the world.
Publication frequency
Quarterly, 4 issues per year.
Distribution
Open Access, under the Creative Commons Attribution-NonCommercial 4.0 International License (CC BY-NC 4.0).
APC
The journal doesn't have any Arcticle processing charges or Article submission charges.
Announcements
No announcements have been published.
Current Issue
Vol 7, No 2 (2021)