CURRENT SITUATION OF CHILD ABUSE IN JAPAN AND EFFORTS TO OBTAIN OBJECTIVE EVIDENCE OF BRUISING FROM CHILD ABUSE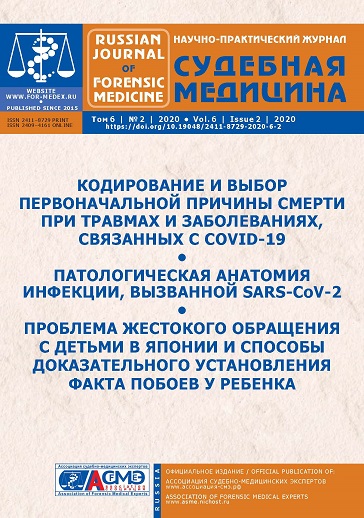 Cite item
Abstract
Child abuse in Japan has become a social problem, with yearly increases in the number of consultations at child consultation centers. Of the four classifications of child abuse (physical abuse, neglect, sexual abuse, and emotional abuse), Japan has seen a particular increase in emotional abuse. Capturing evidence of child abuse is difficult. Generally, photographs are used as evidence, but the photography requires instructions. Three studies are introduced with alternate methods to enable bruising to be used as evidence of child abuse. First, spectrophotometry is used to digitize the color of skin, and provide scientific evidence of the co-existence of old and fresh bruises. Second, the diagnostic equipment of ultrasonography is used to evaluate the depth and thickness of subcutaneous hemorrhages that are due to bruising and which decrease over time after the bruising had occurred. Ultrasonic diagnosis can evaluate both the depth and thickness of such subcutaneous hemorrhages and illustrate the healing process. Third, forensic light source was used, which effectively uses violet light to enhance the visibility of bruises over time, even after old bruises become yellowish and can be hard to differentiate with the naked eye. These methods are useful for visualizing bruises and for capturing the evidence of child abuse. The methods are currently under study, but application in a clinical setting is expected.
About the authors
Akita University School of Medicine
Author for correspondence.
Email: mimasaka9@gmail.com

MD, PhD, Prof., Department of Forensic Sciences,
Akita
Russian Federation
References
Japanese Ministry of Health, Labor and Welfare. (In Japanese). https://www.mhlw.go.jp/content/11901000/000533886.pdf
Japanese Ministry of Health, Labor and Welfare. (In Japanese). https://www.mhlw.go.jp/bunya/kodomo/dv22/01.html
Ricci L. R. Photodocumentation in child abuse cases. In: Child abuse and neglect Diagnosis, Treatment, and Evidence. Ed. by C. Jenny. St. Louis: Elsevir Saunders, 2011. P. 215–221.
Hobbs C. J., Hanks H. I., Wynne J. M. Physical abuse. In: Hobbs C. J., Hanks H. I., Wynne J. M. Child Abuse and Neglect a Clinician's Handbook. London: Churchill Livingstone, 1999. P. 63–104.
Mimasaka S., Ohtani M., Kuroda N. et al. Spectrophotometric Evaluation of the Age of Bruises in Children: Measuring Changes in Bruise Color as an Indicator of Child Physical Abuse. Tohoku J Exp Med. 2010;220:171–175.
Langlois N. E., Gresham G. A. The ageing of bruises: a review and study of the color changes with time. Forensic Sci Int. 1991;50:227–238.
Mimasaka S., Oshima T., Ohtani M. Characterization of bruises using ultrasonography for potential application in diagnosis of child abuse. Legal Med. 2012;14:6–10.
Hempling S. M. The applications of ultraviolet photography in clinical forensic medicine. Med Sci Law. 1981;21:215–222.
Lynnerup N., Hjalgrin H., Eriksen B. Routine use of ultraviolet light in medicolegal examinations to evaluate stains and skin trauma. Med Sci Law. 1995;35:165–168.
Vogeley E., Pierce M. C., Bertocci G. Experience with wood lamp illumination and digital photography in the documentation of bruises on human skin. Arch Pediatr Adolesc Med. 2002;156:265–268.
Krauss T. C., Warlen S. C. The forensic science use of reflective ultraviolet photography. J Forensic Sci. 1985;30:262–268.
Barsley R. E., West M. H., Fair J. A. Forensic photography. Ultraviolet imaging of wounds on skin. Am J Forensic Med Pathol. 1990;11:300–308.
David T. J., Sobel M. N. Recapturing a five-month-old bite mark by means of reflective ultraviolet photography. J Forensic Sci. 1994;39:1560–1567.
Smock W. S. Recognition of pattern injuries in domestic violence victim, In: Encyclopedia of forensic sciences. Ed. by J. Siegel, G. Knupfer, P. Saukko. 1st ed. San Diego: Elsevier Academic Press, 2000. P. 384–391.
Mimasaka S., Oshima T., Ohtani M. Visualization of old bruises in children: Use of violet light to record long-term bruises. Forensic Sci Int. 2018;282:74–78.