AUTOPSY PRACTICE IN CASES WITH PROXIMAL FEMUR FRACTURES IN LONG TERMS AFTER TRAUMA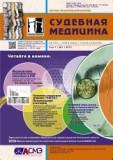 Authors: Zhulin S.A.1
Affiliations:

Bureau of Forensic Medicine of Moscow Region

Issue: Vol 1, No 1 (2015)
Pages: 29-30
Section: CASE REPORTS
Cite item
Abstract
In this article discussed autopsy cases with proximal femur fractures in long terms after trauma. Defined problems: evaluation of these fractures, as nontraumatic; necessity of practical recommendations about post-mortem criteria of osteoporosis degree. 
Keywords
About the authors
Bureau of Forensic Medicine of Moscow Region
Author for correspondence.
Email: zhulin@sudmedmo.ru

Для корреспонденции: ЖУЛИН Сергей Александрович — заведующий районным судебно-медицинским отделением государственного бюджетного учреждения здравоохранения Московской области «Бюро судебно-медицинской экспертизы» (ГБУЗ МО «Бюро СМЭ»), Адрес: 111401, г. Москва, ул. 1-я Владимирская, д. 33, корп. 1, ГБУЗ МО «Бюро СМЭ». e-mail: zhulin@sudmedmo.ru
Russian Federation
References
Абрикосов А.И. Основы частной патологической анатомии. Четвертое издание. М.— Л. Медгиз, 1950.— 472 с. ил.:
Лесняк О.М. Аудит состояния проблемы остеопороза в Российской Федерации // Профилактическая медицина, 2011. т. 14. №2. С. 7–10.
Медицинские критерии вреда здоровью. Дефиниции и иллюстрации: атлас / [Клевно В.А., Куликов С.Н. Копылов А.В. ; под ред. профессор Клевно В.А. — М.: РИО ФГБУ РЦСМЭ Минздравсоцразвития России, 2012.— 367 с.: ил. ISBN 978-5-903341-17-7
Остеопороз / Под ред. Лесняк О.М., Беневоленской Л.И. 2-е изд., перераб. и доп. (Серия «Клинические рекомендации»). М.: ГЭОТАР-Медиа, 2011. —272 с.
Судебно-медицинская экспертиза вреда здоровью: руководство. / [Клевно В.А. и др.]; под ред. профессор Клевно В.А.— М.: ГЭОТАР-Медиа, 2009.—300 с.— (Библиотека врача-специалиста). ISBN 978-5-9704-1227-5
Травматология и ортопедия. Под ред. Юмашева Г.С.— М.: Медицина, 1990.— 576 с.