ANALYSIS OF DEFECTS IN THE MEDICAL CARE WITH COMBINED TRAUMA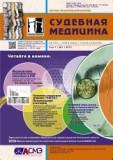 Abstract
Analyzing the cases of deaths of combined trauma. Structure, frequency and main causes of diagnostic and therapeutic errors at the pre-hospital and in-hospital stage of rendering of medical aid. According to the conducted research, developed the method of expert analysis of defects medical care with combined trauma, depending on the immediate cause of death.
About the authors
Bureau of Forensic Medicine of Moscow Region
Author for correspondence.
Email: maksimov@sudmedmo.ru

Для корреспонденции: МАКСИМОВ Александр Викторович — заведующий Жуковским судебно-медицинским отделением государственного бюджетного учреждения здравоохранения Московской области «Бюро судебно-медицинской экспертизы» (ГБУЗ МО «Бюро СМЭ»), Адрес:111401, г. Москва, ул. 1-я Владимирская, д. 33, корп. 1, ГБУЗ МО «Бюро СМЭ». e-mail: maksimov@sudmedmo.ru
Russian Federation
References
Агаджанян В.В., Пронских А.А., Устьянцева И.М. и др. Политравма / Новосибирск: Наука, 2003. — 492 с.
Быховская О.А. Судебно-медицинская оценка дефектов оказания медицинской помощи в условиях крупного города: автореф. дис. … канд. мед. наук / Быховская О.А.— СПб., 2002.— 19 с.
Захаров С.О. Экспертный анализ при производстве судебно-медицинских экспертиз по материалам уголовных и гражданских дел, связанных с ненадлежащим исполнением медицинскими работниками профессиональных обязанностей: автореф. дис. … канд. мед. наук / Захаров С.О.— М, 2003.— 23 с.
Лузанова И.М. Ненадлежащее оказание помощи в акушерской практике (медико-правовые аспекты проблемы): автореф. дис. … канд. мед. наук / Лузанова И.М.— М., 2007.— 24 с.
Пиголикин Ю.И. Методические основы экспертной оценки неблагоприятных исходов лечения / Пиголкин Ю.И., Дубровина И.А., Мирзоев Х.М. // Судеб.— мед. экспертиза.— 2011.— № 1.— С. 27–29.
Сингаевский А.Б. Актуальные проблемы современной тяжелой травмы / Сингаевский А.Б., Малых И.Ю.: тезисы Всерос. науч. конф.— СПб., 2001.— С. 106–107.
Соколов В.А. Множественные и сочетанные травмы / Соколов В.А.— М.: ГЭОТАР-Медиа, 2006.— 512 с.
Татаринцев А.В. Экспертная оценка дефектов оказания экстренной медицинской помощи больным с острой абдоминальной хирургической инфекцией: дис. … канд. мед. наук / Татаринцев А.В.— М., 2011.— 117 с.
Тягунов Д.В. Судебно-медицинская характеристика дефектов, возникших при оказании медицинской помощи (по материалам судебно-медицинских комиссионных экспертиз): дис. … канд. мед. наук / Тягунов Д.В.— М., 2010.—211 с.
Statistics
Views
Abstract: 1179
PDF (Russian): 470
Cited-by
CrossRef: 2
Klevno VA, Maksimov AV. ANALYSIS OF CLINICAL DIAGNOSES IN FATAL HEAD INJURY CASES. Kuban Scientific Medical Bulletin. 2019;26(2):115. doi: 10.25207/1608-6228-2019-26-2-115-121
Giyasov ZA, Islamov SE. DETERMINATION OF PLACES OF ADMISSION OF MEDICAL CARE DEFECTS. Russian Journal of Forensic Medicine. 2019;5(1):29. doi: 10.19048/2411-8729-2019-5-1-29-32
Article Metrics
Dimensions
PlumX
Refbacks
There are currently no refbacks.